Kangen water is the new best when it comes to improving the water quality by increasing the pH an oxidant levels. Users of Kangen alkaline water have reported a break-in aging, better skin, healthier body, increased energy, and stronger immune system.
Kangen water is extremely safe for drinking and cooking as well as plant care, skin care, pet care, and other cleaning and disinfecting tasks. You cannot buy bottled Kangen water for your daily water needs because it would be out of your range.
Kangen alkaline water is very expensive. So, instead of spending again and again, why don't you make a one-time right investment? You can get high-oxidant alkaline water at your home by bringing in a nice and reliable Kangen Ionizer that includes:
We are here to present you with a detailed review of Leveluk Kangen K8 by Enagic Ionizer to help you get a better understanding of the product. The K8 ionizer will not only make your water refreshing and alkalized but also remove bacteria and prevent any harmful contaminants get mixed in your water.
The model is similar to its previous version in many ways, which is why the question of its worth and high price is still unanswered. In this detailed review, we are going to uncover all the minutest details of the K8 system so that you will know why this one is better than its ancestor models.
Leveluk Kangen K8 by Enagic Ionizer Review
Now you can enjoy fresh and clean water without worrying about any harmful chemicals, chlorine, and contaminants. Thanks to the amazing ionizing technology of the K8, you can now feel the increased oxidation as soon as you drink the water coming through the unit.
Let us provide you with the key specs, pros, and cons of the product before moving to the main features.
Product Overview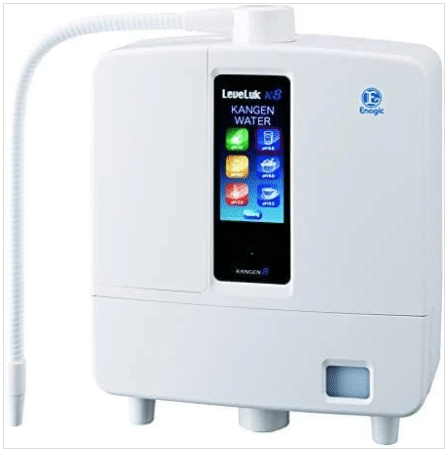 Specifications
8 electrolyte plates | Negative ORP: (mV)-850 | pH Range: 2.5 – 11.5 | Generates: 5 water types | Wattage: (W): 230 | Kangen Water: 4.5 – 7.6 | Acidic Water: 1.5 – 2.6 | Strong Acidic water: 0.6 – 1.1 | 5 years warranty | 6-7 liter per minute flow rate | 100-240V AC 50/6-Hz multi-voltage power supply
Key Features of Leveluk Kangen K8 by Enagic Ionizer
The K8 does not have so many features like most of the best water ionizers. However, the ones that it has been very effective, credible, and functional. This powerful and versatile machine is your next best-friend because it guarantees to provide you with safe to drink and safe to use water all day long.
Below detailed are all the major features of the Leveluk Kangen K8 by Enagic Ionizer that will leave you awe-struck about the abilities of a single unit.
User-Friendly Features
The most advanced the newest feature that the K8 carries is it is being user-friendly. Even your school-going kids can operate this machine. There are 8 different outlets for different power settings so that you can use it anywhere without any hassle.
They come in different sizes and shapes with an interchangeable power plug adaptability. To save on your electricity bills, this system automatically turns on and off so that less energy is consumed.
The system automatically shuts itself when you aren't using it. To turn on this machine, you just have to plugin for once and you are good to go. With smart filtration technology, the system features an automatic cleaning feature with which it cleans itself with every ionization cycle.
Installation
The system is initially designed to be on the countertop unit. All the parts are included within the unit and you just have to connect the hose and system directly with your main pipeline.
You can also read the included user manual for better guidance or watch YouTube tutorials for assistance. If you don't have space on your countertop and want to install under your sink, you will have to buy an additional kit for under-sink installation that will automatically increase the already high price.
Color-Coded Display Panel
The system display is not only color-coded, but touch screen and voice automated as well. Your system is under your control with only one touch.
You can adjust your pH level, select the water settings, keep a check on the filter capacity, control the cleaning process, and ORP level adjustments. As soon as you select a setting, an automated voice will tell you about the current setting that you have chosen.
Filtration
The K8 has only a single filter that has to be replaced after every6 months. The filter does not remove salts and heavy metals.
However, it removes up to 99% of the contaminants including chlorine, bad taste, and odors from the water. You get to choose from different alkaline, acidic, and purified levels to get your desired pH range according to your requirements.
The pH range for Kangen water is between 4.5 – 7.6, for acidic water, it is 1.5 – 2.6, and for strong acidic water, the range fluctuates between 0.6 – 1.1 Along with that the low negative ORP makes the water more oxidant with hydrogen molecules and you feel like using spring water.
Durability
Leveluk Kangen is built to last long. It is designed to be sturdy and durable. It is heavyweight and difficult to carry around, but the weight defines its sturdiness and consistency to do what it has to do.
The body of the system is BPA-free food graded material and the 8 plates are extra-platinum coated titanium. The system is completely leak-free and is backed up by a 5-year warranty.
Read More: Life Ionizer Review in 2022 – Unbiasedly Reviewed
FAQs (Frequently Asked Questions) for Leveluk Kangen K8 by Enagic Ionizer
What are the dimensions and weight of the system?
The system is measured 20.1 x 15.6 x 14.5 inches and weighs 20 pounds.
Does the system need no replacement?
No, the filter does need timely filter replacement as soon as their capacity s over.
What is the warranty for this system?
The unit is backed by a 5-year warranty for which you have to register.
Is the LCD display a touch interface or not?
Yes, the complete display is a touch interface.
Conclusion
The bottom line for the system is that it works great whether it is about balancing the pH level, giving you complete control, easy installation, and quick replacements. The only concern is the price.
The K8 has almost the same pH range and ORP level as the previous version but the price is almost a thousand dollars more than its functions. If you have a budget for this unit and need a very easy to use ionizer, you can go for this one for sure!
Please note: CharlieTrotters.com is reader supported. This page may contain affiliate links. If you buy a product or service through such a link we earn a commission at no additional cost to you.