We often talk about spring cleaning our houses, freshening them up after being closed up over the winter months. The same needs to be done to your garden, reviving it back to life after months of gloomy shit down.
Winter is a typical period of hibernation for a garden, during which time very little grows, but there is still a lot of detritus and damage that accumulates and needs sorting if your garden is going to continue flourishing during the spring and summer.
This damage includes:
Lawns becoming waterlogged and covered in dropped leaves and twigs from inclement weather.

Loss of soil nutrients

Frost damage to plants and lawns
This frost damage usually manifests itself through grass and plants turning brown and limp. During particularly cold snaps, their roots are unable to absorb water, and as a result they start to die of due to lack of moisture.
SWEEP AND FEED YOUR LAWNS
As well as immediately lifting the appearance of your garden after months of winter gloom, giving your lawn a sweep will give your lawn the chance to breathe and the grass itself a chance to get some light and warmth back into its roots. You need to remove all the dropped and rotting leaves and twigs which have blown off the trees.
If not too damp, give your lawn an initial cut then feed it fertiliser and leave it to absorb for a week or two until your next cut.
For those UK gardens, from Manchester to Medway, that have eliminated the maintenance aspect of lawns by installing an artificial lawn, then sweeping up any debris is a crucial part of your springtime regime. You may also want to give it a good brushing to restore the fibres back as good as new.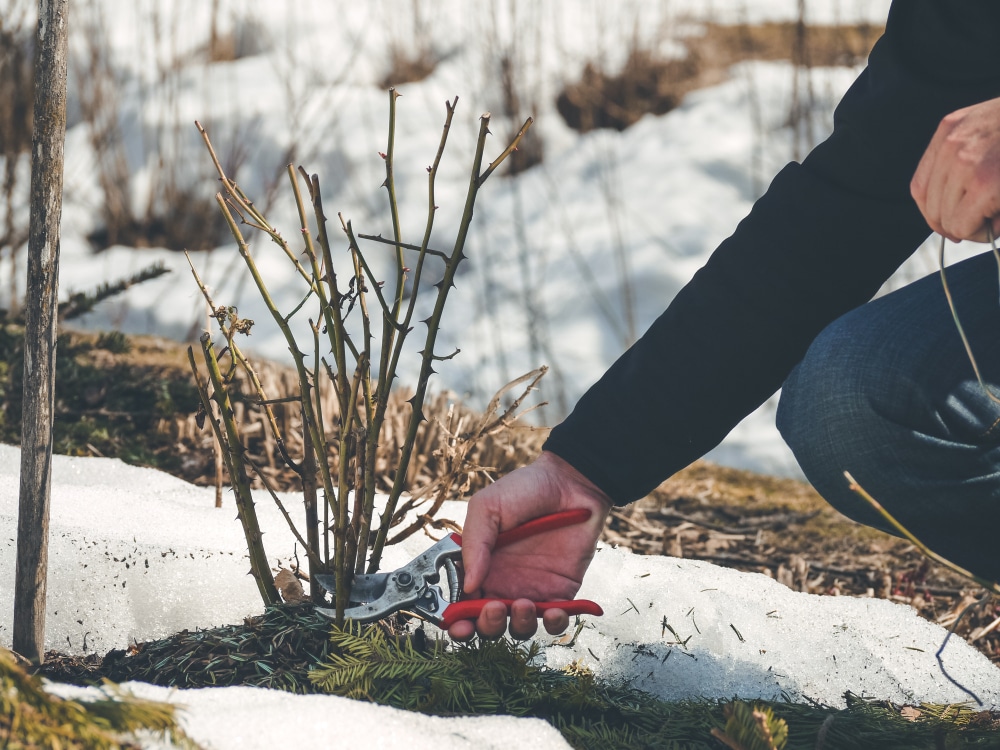 ADD MULCH TO YOUR BEDS
Mulch is made up of decaying leaves, bark and compost and is a highly nutritious and hugely protective material that will benefit your plants. Not only will it help you to keep your plants strong and healthy, but it is also a great way of adding aesthetic appeal to your beds as there are many different options of colour and texture that are now available through garden centres.
Mulching as part of your 'spring clean will help the soil retain any moisture as the weather warms. It will help keep the plants insulated against excessive heat and prevent weeds from growing. In short, spending some time mulching might require occasional nurturing but does eliminate heavy duty maintenance.
FEED SOIL WITH CHICKEN PELLETS
As soon as possible at the end of winter you need to add chicken pellets to your soil to replace any lost nutrients. As the soil bacteria warms with the weather, the nutrients held in the pellets are slowly released back into the soil. Crucially this wonder food for your garden increases the amount of potassium, phosphorous and nitrogen, which is why it is so widely recommended for replenishing a winter starved garden.
COVER VEGETABLE BEDS WITH BLACK POLYTHENE
If late spring frosts have attacked your vegetable patch, there are steps you can take to try and reverse any possible damage. You need to warm the soil back up as much as possible otherwise your crops will develop inadequate rooting that could lead to potential disease and diminished growth.
If these circumstances take the following steps:
Dig in some manure or chicken pellets to replenish organic matter.

Cover any current growth with cloches.

Cover the beds with black polythene to encourage the soil to warm through more quickly.
Please note: CharlieTrotters.com is reader supported. This page may contain affiliate links. If you buy a product or service through such a link we earn a commission at no additional cost to you.